From Bill Stewart:

JAMES MALCOM STEWART
Lawyer, Tree Farmer, Entrepeneur, Philanthropist, Husband, Dad
 
Jim was born May 8, 1915 here in Aberdeen to Malcom Mckenzie "MM" Stewart and Ethel Hinman Stewart.  He joined big sisters Nora Jean "Noni" and Margaret "Mugs".
Jimmy attended Aberdeen Schools graduating with the class of 1933 from Weatherwax.
 
A proud graduate of Grays Harbor College, he earned his tuition stoking the college's furnace, and at Posey Manufacturing all in the depth of the Great Depression.  That job at Posey's, for which he was always grateful funded his education and recurs in his story.
 
He went on to the University of Washington earning a bachelor's degree and a Doctorate of Law.   Although working hard at The U, he had fond memories and a twinkle in his eye thinking of Sigma Nu Fraternity.  It was at the UW he met a 93 pound Kappa Kappa Gamma freshman from Queen Ann Hill.
 
Right after law school, Pearl Harbor, Jim joined up and was sent to 90 Day Wonder School at Notre Dame University to become a US Naval Officer.  Jim served his Country in World War II commanding a converted fishing boat for 26 months in the Aleutian Islands and Bering Sea and then as Skipper of an LSMR in the South Pacific including the Battle for Okinawa. There, his ship took a hit from a Kamikaze plane. Despite severe damage to his own ship, he and his crew displayed courage under strafing fire to rescue the crew of a sunk Destroyer.  It earned Jim the Silver Star and the lifelong admiration and a standing invitation to that ship's reunions.
 
Jim returned to Grays Harbor with his bride, that same UW Kappa, Lieutenant Dorothy Vera Gilardi, United States Navy.  He started a legal career in private practice and as part-time prosecuting attorney.  They purchased Robertson Court and set up housekeeping and an office.
 
His colleagues at the bar and on the bench include well known names of Grays Harbor: including Abel, Krause, Stritmatter, Ingram, Kirkwood, and Phillips
 
When he was nominated to run for the State Legislature, Vera had their first child on the way.  However, into this busy and burgeoning life, came the US Navy.  His service as Commanding Officer of the local Grays Harbor Reserve unit brought two shore patrolmen who showed up with orders to report to San Diego in 2 weeks – a recall to Active duty.
 
Cases and files were farmed out; Gladys Phillips became the candidate for state legislature, and a host of family and friends filled in as Vera's support, as Dad sailed off to the Korean Peninsula. 
 
A safe return home brought Bob and later, me.  The house they built on property in Monte brought sheep, horses, dogs, chicken, ducks even a garage full of quail.
 
Whatever interested we kids or Mom, had Dad's support - Barb was always invited on ski trips by the guys, she thought it was her personality, we brothers thought it was because Dad insisted they take his 4 wheel drive Jeep up to White Pass.  Bob became an Eagle Scout, and there was oldest Dad in Troop 16 accompanying him on 80 mile hikes through the Olympics and horse pack trips in the Cascades.  Dad paddled with me down many rivers in kayak and canoe.  I also remember more than one road trip during law school and he would quiz me on the issues of Olympic Steamship or the obscure rule in Shelley's case.
 
Trips to Europe with Vera re-connected her to French roots and Swiss family.  Dad bought "all you can fly" passes several years and they made countless treks visiting friends and family and exploring even the most obscure areas of this hemisphere.
 
His business sense and love of the Harbor led him to ventures including a long association with Frank Schafer and Paul Cardwell in the Red Cedar shake and shingle business.  He and the Stinchfield brothers owned and operated Posey Manufacturing Co. with "Andy" Johnson's help until the sale to an employee group.  The family grew and harvested Christmas trees in the 70s and 80s, with deliveries from Honolulu to Louisiana.
 
Dad didn't have a brother, but he had the Morgan boys, Frank Schafer and Buford Goeres as business partners and best friends over the years.
 
He thoroughly enjoyed Driftwood Plays at all their venues, including across the street at his mother's former church.
 
He supported causes and served in many capacities.  Dad and Mom were active and strong supporters of St. Mark's Episcopal in Montesano.
 
Jim was one of the founding members of both the Grays Harbor College Foundation and Grays Harbor Community Foundation and the Montesano Lion's Club.  A long time member of the American Tree Farm System and Farm Forestry Association.  Many other boards, organizations and committees benefitted from his time and expertise.  He served as Chairman of the Montesano School Board and President of Aberdeen's Pioneer Assn., Chamber of Commerce, Grange, Masonic and Elks Lodges.  The Washington State Bar Association's newest members are issued numbers around 44,000.  Dad's Bar number ? 38!  He was a lawyer for 70 years.
 
He and Mom endowed an ongoing scholarship at Grays Harbor College from a timber harvest.  One more way to give back to the institution he loved, and to share the opportunity he got along his way.  The college foundation just named their two Founder's Scholarships after Jim and his good friend, colleague and other founding member, Ernie Ingram.
 
Dad never really slowed down, certainly never retired.  He was still planting trees and looking to future harvests and regrowth.  He enjoyed seeing alders and firs greening up Wilder Hill behind Monte Rehab. 
 
His ashes will be interred next to Mom atop the hill Montesano's Wynoochee Cemetery.  A few will be spread on the tree farm, overlooking the pond.
 
The pride he had in family continued to the successes of his granddaughters and grandsons, Anna and Alicia, Michael and Daniel.
 
I want to close with a quotation from Robert Louis Stevenson that is, by extension, an eloquent reflection on the life of James Malcom Stewart:
 
"That man is a success who has lived well, laughed often and loved much;
who has gained the respect of intelligent men and the love of children;
who has filled his niche and accomplished his task;
who leaves the world a better place than he found it, whether by an improved poppy, a perfect poem or a rescued soul;
who never lacked appreciation of earth's beauty or failed to express it;
who looked for the best in others and gave the best he had".
 
Other quotes you will find on the seedlings we ask you to take home and plant in Jim's honor on YOUR tree farm, whether it be a container on the patio or a forested forty.
 
Please sign our guest book – its one of Dad's favorites of forestry and logging in Grays Harbor.  (The guest book was an actual beautiful coffee table type forestry and logging book! Each person was encouraged to sign a separate page.)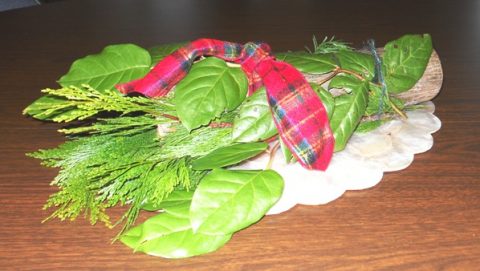 Table decoration for Jim's event!  Of course, a log with a Stewart tartan wrap!


From Bob Stewart:
Final Salute to you Dad

The real life and times of our very own Jimmy Stewart
 
Dad weighed anchor, in Navy jargon, for the last time on November 23, 2011.  Two days later at the 7th St Theater in Hoquiam The Christmas classic "It's a Wonderful Life" starring Jimmy Stewart was playing.  Coincidence?  Maybe.
 
Your presence here today is commended.  At age 96 many of Dad's closest associates, shipmates, family and friends are no longer with us; but now he is with them.
 
Most of us have heard of the proverbial story of 6 Blind men describing an elephant from each having touched a different part of the elephant --an ear, leg, tusk, tail, trunk, etc.  None of the blind men believed the other's description as it was so fantastically different from their own experience.
 
Such it is with Dad.  Each of us has seen or touched a different part of Dad's life separate from any of the others.  And in that singular way we truly know him better than any of the others.
 
Maybe it is as a family member----(pause).  Or maybe it is as a law colleague, a client, a neighbor or a close friend.
 
For all the many kindnesses shown Dad through the years, God Bless you.  He was richly blessed.
 
"Of the Greatest Generation", using anchorman Tom Brokaw's words, Dad was born in 1915.  The world was one year into World War I at the time.  Those that survived from this generation lived through the Great Depression, World War II and the Korean War--indescribable events which tested the mettle of a single generation over and over again.
 
Had it not been for this generation's acts of courage, self sacrifice, and patriotic duty, we could hardly enjoy the freedoms that so many in the world dare only dream about.
 
The youngest of Malcolm and Ethel Stewart's three children, Dad followed his sisters into their nineties.  One of Dad's contemporaries, Jack LaLanne, the 20th century fitness guru also died in 2011, also at the age of 96.  I did the math and found Dad outlived him by 2 months .... with 100's of thousands less sit-ups!
 
Darned if I know how Dad reached the age he did.  Strong memories that don't typically relate to a long life include a capsized canoe in the icy tree strewn currents of the upper Quinault River, eluding what must have been a swarm of killer bees deep in a Costa Rican ravine, and over-turned tractors on the tree farm.
 
Once on the Olympic Mountain trail to Blue Glacier, I recall gingerly dismounting from my appaloosa to lead him across a very narrow, low- sided bridge spanning a 150 foot chasm.  Dad calmly rode his Palomino across casually commenting that the extra four foot up in the saddle really wouldn't make much difference if the bridge failed.
 
Dad had a penchant for getting into tight spots.  But he had an uncanny knack for sizing up the problem, enlisting what resources were at hand and overcoming obstacles of all sorts.
 
Case in point.  Contrary to the story of Mom's good ­luck rabbit's foot keeping him safe through the war; he confided to me that he credits a zigzag ship handling maneuver to eluding much of the gunfire directed his way.  A strategy by the way that I was never taught in 5 years of the Navy.

When his small ship of 14 knot top speed went in on a shore bombardment run, he would direct the helmsman to steer the ship towards the closest last shell splash off of his bow.
I can just imagine him at Battle Stations barking out the orders. "All ahead flank," then a splash off the port bow ..... "Left hard rudder" .... then another splash off the starboard bow "Shift your rudder".  Over and over again the refrain as he chased towards not away from the last shell impact; believing the enemy, having just missed, would be retraining their guns.
 
Simple, effective and downright brilliant!  But then again, if you ever had the chance to do battle with him over a checker or chess board you can appreciate his critical thinking.
 
Dad's Rocket Ship LSMR 189, on picket patrol off Okinawa during World War II received heavy enemy damage.  Yet despite being hit by a kamikaze plane his ship continued its mission while rescuing half the surviving crew of the not so fortunate destroyer USS Mannert L Abele.

But the story of Dad's Navy years are best appreciated in Dad's own words in his book "90 Day Naval Wonder".  In the book he praises the officers and enlisted crews of the 5 different ship commands he held during 9 years of Naval Service.  He also credits God for his greatest source of pride ..... that he never lost a single man.
 
Dad's post-war civilian life was centered around another navy Lieutenant's life.  Dorothy Vera Gilardi Stewart.  Mom.  They became partners in life for 61 years.  Together they made a life in the small town county seat of Grays Harbor.  Montesano.  Home to America's first tree farm.
 
Showing his good Scottish business savvy, Dad acquired an office/apartment complex just across the street from the county courthouse.  Later he purchased and had built our family home on Third and McBryde.  He prospered in Montesano, liking to walk home for lunch picking up litter along the way.
 
Dad put family foremost.  Neighborhood Easter egg hunts, apple cider making parties, riding our ponies in the Dairy Day Parade were all activities that made special by Mom and Dad.
 
Dad was the first family member to reach the hospital following Barbara's skiing accident, he flew to Idaho on an important school event for me, and would wake Bill on early morning clam digging tides.

Dad was a visionary.  In the timber industry his legacy of good forest stewardship will live on through his fine example and grandchildren that know 'which end of the tree goes into the ground'.
 
In the fields and forest, especially on horseback, Dad was in his element.  He would agree with President Ronald Reagan, "There's nothing so good for the inside of a man, as the outside of a horse."

In eulogy dictum it is appropriate that I should point out one thing that Dad would want us to do to carry on.  Remember that elephant I mentioned earlier?  Well, Dad would have us think of elephants next time at the ballot box.
 
Whether wearing the uniform of a decorated Naval Officer or the suit and tie of a small town attorney, Dad truly did fight for liberty and justice for all.  God Bless His Soul.