The Apostle Paul has been doing some traveling and in everything he does, he is guided by the Holy Spirit.  In today's story he is on his second journey.  Paul travels for about 25 years, and about 10,000 miles. These miles were by land and sea, by foot, camel, mule or wagon.  At the time traveling was not too safe.  By land there was the fear of robbers, long hard miles, not knowing where your next drink of water may be and the dry food you are carrying is all you have to eat for the entire journey.  By sea, there were pirates, primitive navigational equipment and unsafe boats which had no cabins for travelers. They had to find a place on the deck exposed to sun, winds, and rain. Paul's trade as a tentmaker probably held him in good stead, as he could make shelter for himself and his companions on the deck.
           
There were good Roman roads in many places that he traveled.  But because of the constant danger of bandits, people tried to always travel in large groups. They hurried to get to the next wayside inn for shelter and whatever food might be available.  For much of the time, Paul and his friends were walking along these dangerous roads.  Of course, I always worry about their feet.  They had crummy, simple sandals, not cushy sneakers like we have.  But Paul was driven by the Holy Spirit to endure.  
           
In 2 Corinthians, Paul describes some of the dangers he faced: "Five times I received from the Jews the forty lashes minus one.  Three times I was beaten with rods, once I was pelted with stones, three times I was shipwrecked, I spent a night and a day in the open sea.  I have been constantly on the move.  I have been in danger from rivers, in danger from bandits, in danger from my fellow Jews, in danger from Gentiles; in danger in the city, in danger in the country, in danger at sea; and in danger from false believers.   I have labored and toiled and have often gone without sleep; I have known hunger and thirst and have often gone without food; I have been cold and naked."
           
Hearing all this makes it even more clear just how driven Paul must have been to share the Gospel.  I envision him almost pulled along his lengthy way by the Holy Spirit and by his zeal to spread the Good News of Jesus Christ. 
           
In today's reading, Paul has a very specific vision, calling him to change his plans and travels to the west instead of north.  He sees a man in a dream, who says, "Come over to Macedonia and help us."   Immediately, Paul answers the call of the Spirit and takes off.  Everyone, please look at your maps and let's see where he's been.
 
Paul, along with Silas and Timothy, start down in Jerusalem and went north through Syria, then turned west toward Tarsus.  They visit Lystra, Iconium and Antioch in Pisidia, but they are restrained by the Holy Spirit from heading into Asia and visiting Ephesus, or going north into Bithynia.  So, they end up at Troas.  Put your finger on Troas for a second.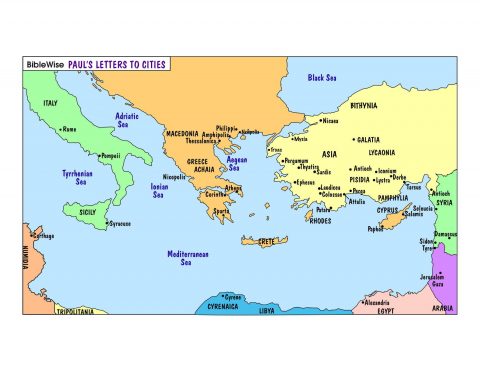 The Holy Spirit has been guiding Paul both toward and away from some locations.  He is open to seeing the vision God offers him and changes his plans accordingly. 
           
Now Luke joins Paul and tells the rest of the story in the first person voice.  He says, "We set sail from Troas and took a straight course to Samothrace, then to Neapolis and from there to Philippi which is a leading city of the district of Macedonia.  Philippi was a Roman city colonized primarily by veteran soldiers who had served in the great battles of the era.   This probably wasn't a very receptive audience for these Christian missionaries.
           
Our story takes place in Philippi but just for the fun of it, look at the rest of the journey: Paul continues south along the Aegean Sea down to Corinth, across to Ephesus then slowly back to Jerusalem.  This is quite a trip but his next journey will take him all the way to Rome!
           
In Philippi, Paul seeks out the Jewish community but there is no synagogue, so he goes down by the river to pray, finding only an unofficial meeting of women.  At the meeting there is a businesswoman named Lydia.  She is obviously an intelligent, self-motivated, moral woman, but in particular, she is a God-fearer - a Gentile associate of religious Jews.  Somewhat ironically, she is originally from Thyatira, not far from Troas where this phase of the journey started.  Paul has come all this way to help a man from Macedonia; instead he helps a woman from elsewhere.
           
Lydia will be a stalwart supporter of the followers of Christ.  On hearing the good news of the kingdom, she puts her trust in Jesus. Her family and household are also evangelized; they believe and are all baptized.  She offers hospitality to the missionaries and her home soon becomes the center for a new church in Philippi where Paul will send his letters to the Philippians.
           
Paul listens to God, listens to the Holy Spirit.  God had bigger plans for Paul than Paul had imagined.  God can imagine things that we cannot, and then, invites us to be a part of it.
           
How good are we at listening to the Spirit?  Paul's vision sent him to find a man in Macedonia, instead he found a woman.  He had failures in the three places he had just visited.  He had planned to go to Asia but was sent by the Spirit to Europe.  Paul makes plans, God laughs.
           
Isn't that true for all of us?  I've been thinking a lot about this as we talk with Jeff about his plans for his major in college and his hopes for his future career.  I want to encourage him to make plans but don't get too attached to them because you never know how life will work out.
           
There is an old Yiddish proverb: "We plan, God laughs."  Woody Allen changes that to "If you want to make God laugh, tell him about your plans".  In Proverbs 19:21 we find this: "Many are the plans in a person's heart, but it is the LORD's purpose that prevails." Or Proverbs 16:9: "In their hearts humans plan their course, but the LORD establishes their steps."  Paul sure does a good job of letting 'the Lord establish his steps', doesn't he?

I think that following the Spirit may mean that when our cherished plans don't come to pass, our task is to make the best of our new reality. Paul understood this.  Paul understood that he had to be flexible about his plans.  John Lennon said: "Life is what happens while you are making other plans."  Do we get that?  Do we let the Holy Spirit have a place in our hearts, a say in our lives or do we doggedly stick to our plans at all costs?
           
We need to let go and let God do what God wills, as we pray in the Lord's prayer: "Thy will be done."  So let us trust that the Lord will guide us.  Let us trust the Spirit to guide us every day, and in every way.  Amen.