This griddle was used for many years, likely from 1955 through 2012, for the Pancake Day event each year.  This was a commercial griddle, probably given to St. Mark's from some restaurant, and is made by Edison GE Appliance Company, Inc.  It is a Edison Hotpoint version, model 121R 200, Serial 121118, made in Chicago, Illinois.  Best as can be figured out, it was likely built in the mid to late 1930s.  It finally gave up at the start of the 2013 event, and replace by portable griddle for that year.  A new griddle was purchased for 2014.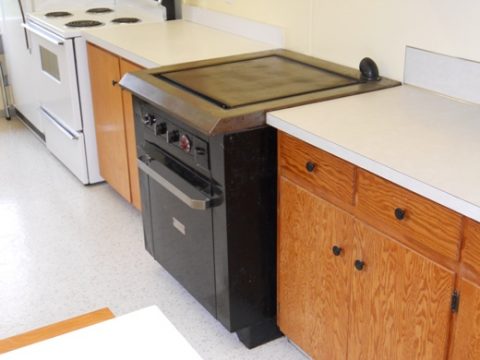 This griddle is built into a space in the church kitchen and is used only once a year for this event.
Our team of pancake grill masters keep this unit cleaned up and ready for use each year.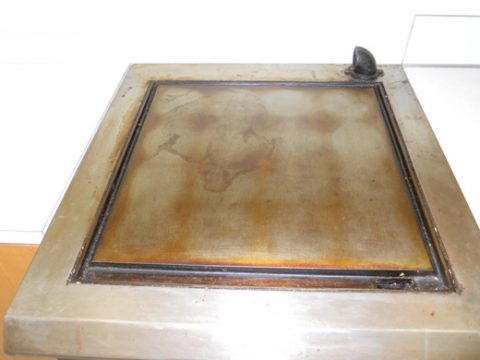 Note the pattern of griddling 16 pancakes at a time, which is how they are cooked, over 1000 pancakes in total each year.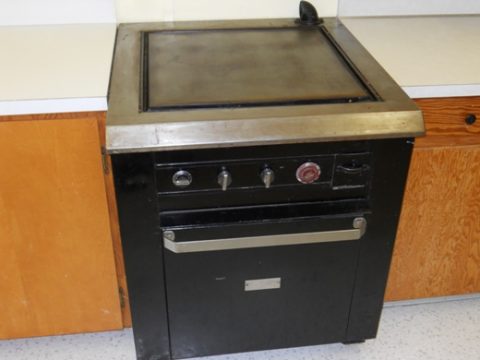 The oven is never used, and who knows if it even works. The model name, Edison Hotpoint, is on the metal nameplate on the oven door.  The detailed information for the griddle is on the upper right front, embossed in above the knob panel.