Christmas Celebration (12/24/2014), 5pm, at St. Mark's
Decorating of the worship space was done in stages during Advent up until after the worship service on Sunday, December 21st.  Our Christmas Eve service on Wednesday, December 24th at 5:00PM, was a festive communion service with several Christmas hymns (including the lighting of individual candles during "Silent Night") for everyone who attended--all 34 of them!  And, there was wonderful refreshments and fellowship afterwards.
 
Pledge Sunday (11/30/2014 and on), at St. Mark's
We received and blessed our 2015 pledge commitments.  Our pledges fund our ministries here at St. Mark's—we have no endowed funds for operating the church. This helped us to finalize the 2015 budget for the ministry of St. Mark's. 

104th Diocesan Convention (11/7-8/2014) at the Seatac Hilton, Seatac 
Rev. Lorraine Dierick, Rev. Bonnie Campbell, Jim Campbell, and Martha Krug attended for St. Mark's.  

All Saints Celebration (11/2/2014), 10:00AM at St. Mark's
All Saints Day--we celebrated those who came before us.  There was a combination of tables for displaying pictures of those loved ones who we remembered during the service, and candles to light as we prayed for them.  

Kids Halloween Treats (10/31/2014) at St. Mark's 
Many kids got treats, there were dog treats, and coffee and restrooms were available for all in this evening of fun in the neighborhood.  Even more, with the Montesano-Elma football game starting nearby at 7pm.  From about 5-7pm, many kids with their parents came by, and the costumes were awesome! 

Blessing of the Pets Sunday (10/5/2014) at St. Mark's  
Our 12th annual special service for our pets—7 dogs, a cat, and a bird, and their owners. It was again a time of joy for all involved. The collection taken this year was again split between the Grays Harbor PAWS and the Freedom Tails programs. Pictures are here. 

Annual Church Picnic (8/31/2014) at St. Mark's 
We had it here at church! Inside!! We know not to test mother nature!  And we were right again, as the weather was iffy!  Labor Day weekend, so a small gathering of 11 of us met for a great worship service led by and preaching by visiting the Rev. Sarah Monroe.  Following this, there was a potluck meal and fellowship.  And then we supplied Sarah with 4 large pans of a great Italian recipe along with rolls, salad and cookies for her Chaplains on the Harbor Sunday evening meal at St. Andrew's, Aberdeen for the local homeless community.

Back to School Supplies Drive at St. Mark's (Month of August/2014) 
We collected several hundred $$ of emergency/extra supplies for the local Montesano school kids again this year. Thanks to all for your help and generosity! 

Montesano Community Bible Camp (7/7-7/11/2014) 
Another fantastic ecumenical Bible Camp week!  Over 190 kids participated, with St. Mark's having the pre-kindergarteners again. 

​One Year Later!  Trees at St. Mark's
About one year ago our 104 year old large maple trees were dramatically trimmed to deal with limbs in the power and communication lines.  Amazing how well they have grown back in such a short time.  Pictures over the years and just before heavy trimming are here.  Pictures just after the trimming are here.  Pictures from just last week, a year later, are here.  These trees along with the nice yard and bushes give this a feel of a small park in our church yard.  And, people notice when they look for the geocache in our church yard--you can tell by the nice comments they leave on our geocache page!

Pentecost Sunday at St. Mark's: (6/8/2014)
Lots of Red--draped in the church, hanging on all crosses, vestments, with some of the many flowers, on the old altar and ambo, and worn by most of the people.  A day after the beautiful wedding and reception of Christen and Kevin, a celebration of Pentecost on a cloudy humid morning.  And then lots of strawberries, creme and brown sugar, with lemon poppyseed mini scones for treats!  Pictures are here!

Ordination of Sarah Monroe as Priest at St. Andrew's, Aberdeen: (4/23/2014)
"And make her a priest in Christ's church."  A wonderful service and reception for our own Sarah, who St. Mark's presented as her sponsor at the start of the service.  St. Mark's also provided the funds for her beautiful vestments created by Cole Adams.  We are very proud of her!!  Pictures from St. Andrew's Facebook page are here. 

Easter Season Events at St. Mark's: (4/13-20/2014)
Palm Sunday Communion Service: April 13th—reading of the passion story and blessing of the palms.
Maundy Thursday Communion Service: April 17th—included foot washing like Jesus did for his disciples, and a generous potluck meal after the service.
Good Friday Service: April 18th, noon at St. Mark's.
Good Friday Ecumenical Service: April 18th, 7:00PM at Calvary Chapel.  A beautiful reflective service with over 100 in attendance.
Easter Sunday Communion Service: April 20th—celebration of the Risen Christ, renewal of Baptismal vows, an Easter Egg hunt for the kids, too!


Ashes to Go on Ash Wednesday (3/5/2014) at the Montesano Post Office
Revs. Bonnie Campbell and Lorraine Dierick from St. Mark's in Montesano impose ashes at the Montesano Post Office (including the drive through) today from noon to 2pm, just missing out on the rain that has fallen since. Included in their "customers" were the Catholic and Presbyterian ministers in our town.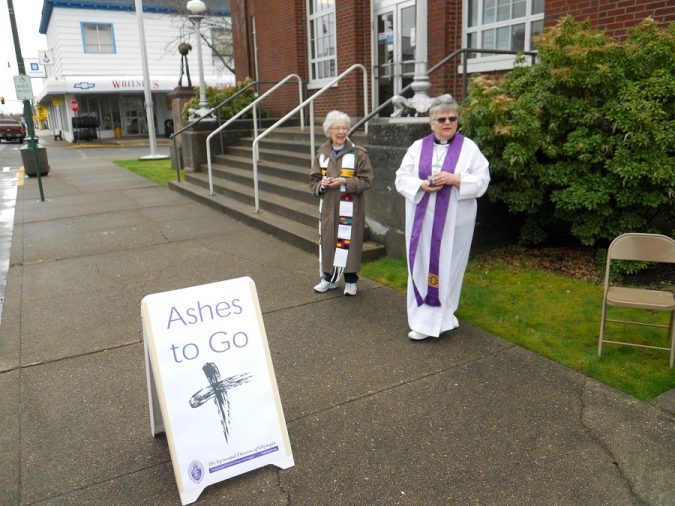 104th Shrove Tuesday Pancake Day Event (3/4/2014) at St. Mark's
Thanks to everyone who helped and participated in our 104th Annual Shrove Tuesday Pancake Day event at St. Mark's (11am-7pm today). Special thanks to the people from the Church of God and the Methodist Churches who helped us make this happen this time. We raised a record gross total of almost $1600 and will net out at over $1200 to give to the Monte Food Bank, Children's Advocacy Center, and Coastal Harvest. And another $200 separately given to our clergy discretionary fund, which also helps with short term needs here in the community. A lot of pancakes, lots of fellowship, and plenty of tired feet--but a lot of fun, too for this Montesano community that comes together each year for this. Pictures are here!

One fun thing that occurred at lunch was that an entire class of kids from Montesano High, who were next door at the Church of God for a weeklong seminar on world business, descended on Pancake Day--and were served almost at once so they could get back for more of the seminar. Super well behaved, and they got a "taste" of how pancakes fit in with the Christian church year.

A Tale of Winter Woe and Deliverance (1/7/2014)--Somewhere!

Rev. Dorothy McMeekin's Burial Service (1/4/2014) at St. Mark's 
Today, January 4th, we said goodbye to a wonderful Deacon in God's service, the Rev. Dorothy McMeekin. She passed away on December 21st, after recently turning 91. The church was full--about 100 family, friends, and St. Mark's people, along with the Bishop Sandy Hampton to preside at this service.  The service was filled with both sorrow and joy for Dorothy, and this event and the following reception served to show our love and memory of her ministry and presence with us.  Although her final years were a major health struggle, she was always considered to be a part of the life of St. Mark's. Dorothy and her family had been part of St. Mark's since the early 1950s, and she had served in many ways in the church, including as a layreader and three years as Senior Warden in the early 1990s. Her starting the weekly after school Children's Church with the Rev. Lorraine Dierick and Corby Varness in the early 1990s helped shape the religious perspective of many Montesano kids over the years. Dorothy was ordained a Deacon in 1999 and served until her own health forced her to stop. We will miss this lovely woman, that Bishop Greg Rickel called "such a lovely soul".

You can learn more about Dorothy's life and ministry through Rev. Lorraine Dierick's sermon at her service: Dorothy Mcmeekin Funeral Sermon